Cape Fear Beach Rentals is proud to introduce the latest addition to our inventory line, the Cool Cabana! Part umbrella, part canopy, this innovative product comes to us from the great down under, and we think you'll love it! Australian inventor Mark Frasor has revolutionized the way you'll enjoy your beach days with his personal cabana, and now that we feature it in our product line we can't think of a better way to relax the next time you head to the beach.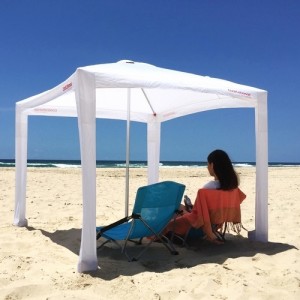 Much like the traditional umbrella, the Cool Cabana features a light-weight aluminum center pole, which has a sand spike used to anchor the cabana into the ground. The canopy is made from a cotton poly canvas fabric providing 50+UV protection, blocking 98% of UV rays. However, the genius in this product is in its four "sand pockets" that are attached to each corner of the canopy by column-like wings. Once filled with sand, these columns stabilize the cabana at all four corners, making it one of the sturdiest shade products on the market today! The beauty in these columns is not only in the stability they provide, but also in the storage pockets attached to each corner. This feature gives you the perfect place to store things like smart phones, wallets, or water bottles. You'll never have to worry about your valuables getting sandy and damaged at the beach again! The Cool Cabana is also very easy to set up and take down, and fits nicely into its bag for convenient transport. Two of our our Resort-Style Chairs will complete your beach set, making your day perfect.
As you can tell we are beyond excited to have this product available to our customers. We do still have our Resort-Style Umbrellas if you're more of a traditionalist, but we encourage you to give the Cool Cabana a try. Currently our supply is limited so be sure to reserve your Cool Cabanas in advance to ensure we have one for you! We look forward to seeing you on the beach soon, and don't forget to rent and relax with Cape Fear Beach Rentals!