One key to a great vacation is a great dining experience, and if you're visiting Wrightsville Beach you'll find it at South Beach Grill. With it's southern inspired and locally sourced menu South Beach Grill is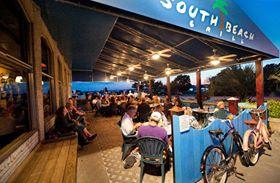 able to provide you with local fresh favorites from land and sea.
For over 20 years owner John Andrews has kept South Beach Grill at the top of the restaurant industry here in the Cape Fear Region by keeping it simple and consistent. Don't believe me? Just try the Grouper Linda, one of South Beach Grill's featured dishes, it's been on the menu for 19 years! The fresh grouper is spiced pecan crusted, pan seared with backfin crab meat, and topped with a cream sherry beurre blanc sauce. Once you try it, you'll understand why this dish has stood the test of time.
Flounder is another local staple that South Beach does a great job with. They can prepare it three different ways; The Flounder Francais is sauteed in a lemon parsley butter sauce, Sweet Potato Flounder is pan sauteed with sweet potatoes and herbs, then topped with a meyer lemon, thyme, and honey sauce, and of course you can get a classic Fried Flounder Platter served with fries and slaw.
Want to try something new? I bet you've never had Southern Fried Black Eyed Peas before. Well you can find them here! They're seasoned with old bay salt and fried with bourbon candied bacon. Looking for a healthier option? You may want to try the Makers Mark Salad, which is made with fresh spinach, crumbled gorgonzola, granny smith apples, spiced pecans and mandarin oranges tossed with a bourbon & honey dressing. Feel free to add chicken, shrimp, or the daily fresh catch to any of the salads.
Not only is the food great, but the building itself is actually a piece of local history, as it was the original site of the first and only bank to operate on the island, the old vault is still visible today! Positioned directly across the street from beautiful banks channel, with seating options both inside and out, South Beach Grill truly offers a wonderful dining experience for it's patrons, which explains why we see the same faces every time we have the pleasure of dining there. So the next time you're in Wrightsville Beach be sure to visit John, Chris, Chef Nick, Jenny and the other great people at South Beach Grill, you won't be disappointed.